Today, we are proud to announce that Cher Wang, co-founder and Chairwoman/CEO of HTC has been awarded the 'Accenture VR Lifetime Achievement Award' by the Academy of International Extended Reality (AIXR).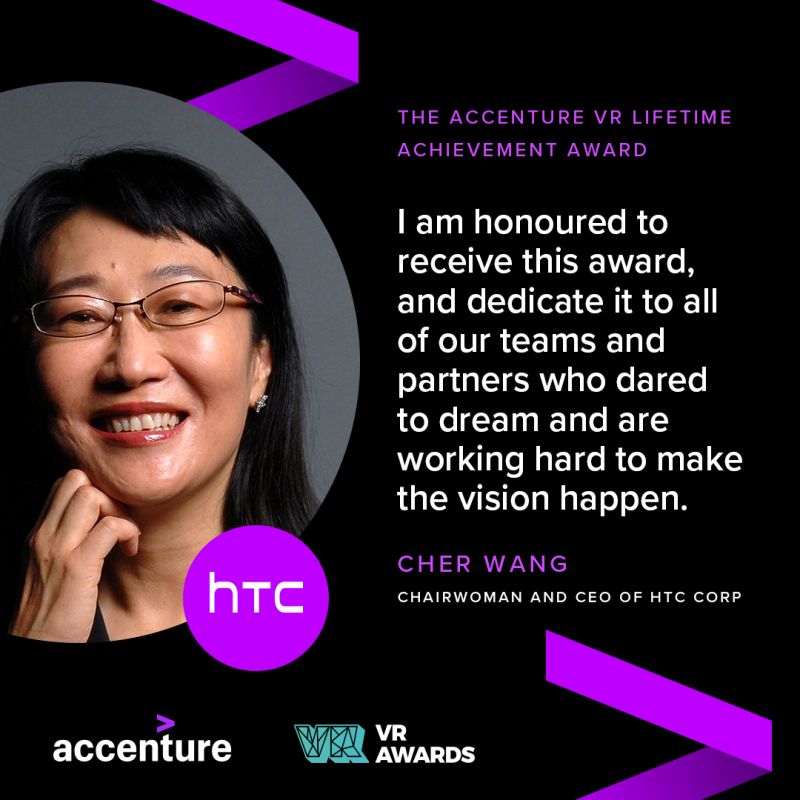 "Cher Wang has been a true pioneer in the VR industry – having vision, taking risks, and moving forward with courage well before consumer demand had taken hold," said Vicki Dobbs Beck, ILMxLAB Executive in Charge and member of the steering committee. "This is the kind of leadership that helps turn possibilities into an inspired reality."

"We're incredibly proud to name Cher as our 'Accenture Lifetime Achievement' award winner and hope that by showcasing her work, we can inspire the next generation of pioneers to do more, to break new barriers and continue to develop digital technology," said Daniel Colaianni, AIXR CEO. "As always, we're thankful to our partners Accenture for their support which enables us to recognise achievement and nurture a flourishing industry as it continues to grow." "I am honoured to receive this award, and dedicate it to all of our teams and partners who dared to dream and are working hard to make the vision happen," said Cher Wang, Chairwoman and CEO of HTC Corp. "It's an exciting time to be in the industry. We're still in the Age of Exploration for VR, discovering new use cases every day, and it's been fantastic to see so many people, companies, schools, museums, and more recognize the potential for VR, and utilize it for collaboration, training, education, healthcare, art and culture, and even global sustainability. VR truly holds the key to a better world."
Major Brands Are Investing in VR. About 75 percent of the Forbes World's Most Valuable Brands have created some form of virtual reality or augmented reality experience for customers or employees, or are themselves developing these technologies. Given that this study was conducted in October 2015, the number is likely significantly higher.
Cher Wang was recognized for her vision for VR, understanding the game-changing ability of fully immersive VR and setting out to build a holistic VR ecosystem to drive adoption among both consumers and enterprise. A strategic partnership with Valve in 2015 brought the world's first consumer-scale VR systems to market, boasting full room-scale movement and laser-accurate tracking, and HTC has continued to set the quality standard for the VR industry, with premium VR hardware that has extended the range of movement, improved visuals, controls, ergonomics, and eye-tracking for greater feedback accuracy.
This has seen the proliferation of VR in many aspects of our lives, with VR adopted by companies for training, collaboration, marketing, and development work, but also by providers of mental and physical healthcare, education, art and culture, and much more.

"VR has the remarkable ability to foster empathy, which can benefit society in new ways, increasing understanding between peoples, spurring a more positive impact on society through raised awareness of key sustainability challenges, and bringing people closer together," Wang added. As a result, she has invested millions of dollars in the strategic initiatives of VIVE Arts, VIVE Originals, and VR for Impact to promote the benefits of VR in the fields of the arts and museums, movies, and global sustainability respectively.
The State of VR in the Early 2000s. After so many capable devices on the market and so many let downs that didn't truly capture the audience they deserved, virtual reality didn't see much development in the early 2000s. Virtual Reality was at the background in the development of new technology. It took a step back, letting personal devices, such as computers, laptops, iPods, smartphones and tablets take over, which may very well have been the right step. With the development of new technologies, a new door was opened for virtual reality, because now head-tracking and capable displays were cheaper than ever before. However, it wasn't before one start-up company mentioned the idea, that Virtual Reality truly took off on the consumer's market.
HTC launched a premium VR app store, VIVEPORT, in 2016 to make it easy for VIVE users to find VR content in many of the entertainment, education, cultural and exploration categories, which continues to grow subscriber numbers as VR proliferates. VIVE X is HTC's $100 million accelerator program investing in early-stage startups in the XR space, which has invested in more than 100 companies globally since its founding in 2016 and continues to grow its portfolio today.

If you'd like to know more about AIXR and the VR Awards, please visit: https://aixr.org/