Large companies and the media tend to mislead us by presenting us with just one side of virtual reality. We mostly see virtual reality as a means to entertainment, but that's really just the tip of the iceberg. VR is used in many other situations and medicine is undoubtedly the one that deserves the most attention.
When most people think of virtual reality, most people think of an abstract concept that they associate with video games. You may have read in our other articles that the fields of application for virtual reality are actually quite numerous, but there's one area in particular where this technology should be developed, both for technological and humanitarian reasons: medicine. VR technology promises to help both doctors and patients. You read that correctly: in the medical field, patients are not the only ones who will stand to benefit from VR.
Smartphones at the forefront of Virtual Reality. It's a worldwide reality: smartphones dominate everyone's every move. It comes as no surprise that taking the smartphone experience to the next level means stepping up the game in VR. With all the VR content users can sink their claws into, all one needs is the perfect device to embrace the wealth of entertainment that awaits him or her.
Training and simulations
Emergency medicine is a particularly difficult profession for one simple reason: you have to be ready to face anything that comes through the door. Whether it's a person with a virus or someone with a gunshot wound, it's particularly stressful for medical workers who have to attend to so many different people, especially the youngest workers who have little experience.
VR developers have created ways to better prepare health professional by immersing them in simulations of stressful situations that they are likely to encounter in real life. This better prepares doctors to be effective in difficult situations. If you're interested in the subject, you can take a look at Ludus , a simulator that is aimed not only for people in medical professions, but also fire departments, the police and the military. The French company SimforHealth aims to train health professionals through VR and sums up its concept with "Never the first time with a patient".
The combination of VR and training isn't limited to preparing health professionals for difficult situations. The technology also makes it possible to create medical videos in 360 degrees, especially for educational purposes . This means that medical students can attend operations and see the different elements (for example, an organ) from various angles. This is particularly useful in complicated surgeries like open heart surgery or brain surgery, to see exactly what can happen in real conditions.
Things go even further since surgeons can also train to operate in virtual reality. The program might be artificially created for educational purposes or based on data obtained from patient analyses - for example from MRIs - but the objective is always to allow the surgeon to better prepare for a procedure.
SEGA's VR Glasses Project That Didn't Make It. Gaming companies also knew that Virtual Reality was going to become a huge thing in the gaming world. However, while they had the vision, they were lacking the technology we have today. In 1993, at one of the first Consumer Electronics Shows, SEGA announced the Sega VR headset for their Genesis console. The prototype glasses had head tracking, LCD screens in the visor and stereo sound. SEGA's idea was to release the product for a mere $200 at the time, but technical development issues turned the idea into one of the biggest flops for the infamous gaming company. The product was never released on the market.
But let's stay on the topic of surgery: VR can also be used to perform operations, provided that it is supported by a specialized robotic arm, which for the time being is of course still handled by a surgeon . This technology has clear advantages. There's less risk for the patient, and there are more opportunities for surgeons to train. It's interesting to note that these robotic surgical procedures can combine several technologies : VR, artificial intelligence and augmented reality.
But not all VR apps that concern medicine are aimed exclusively at people in the medical profession. This is the case with YouRescue and BLS from Dual Good Health , which aim to provide first aid training in virtual reality.
VR's role in psychology
Psychology only became a science at a very late stage, in the 19th century, and it offers many possible fields of application for VR. The most interesting field is undoubtedly its impact in the treatment of phobias. A VR program can plunge you face-to-face with your phobia into a virtual world. It could be a closed space if you're claustrophobic, the view from a balcony if you're scared of heights, etc. After a few sessions, your phobia will go away if the treatment works. This type of treatment is already used in hospitals. Of course, it's always done under the supervision of a health professional, i.e. a psychologist or psychotherapist.
VR also makes it possible to deal with dependencies. Again, a simulation can immerse a patient into a hostile environment in which he or she must overcome their problem. This isn't really a treatment in itself, but a way to reduce the risk of relapse. And of course, the program is run by a professional. Psychology researcher Noah Robinson told The Fix magazine that "The idea is if you can make therapy as accessible as heroin, potentially you might be able to avoid use." Another approach is somewhat reminiscent of group therapy but in virtual reality, where applications like VRChat and Interventionville allow patients to meet other patients with the same addictions and give them the opportunity to support one another.
The fight against stress is another topic that is very important these days. Virtual reality is used to relax patients, and prevents them from thinking about their worries by diverting their attention away from certain activities. Several apps even focus on meditation such as Healium , which offer a mixed reality experience.
Some of the Best Applications Have Nothing to Do with Gaming. Typically, when people think of virtual reality, they think of computer games. This is unfortunate because some of the best and most interesting virtual reality experiences out today have nothing to do with gaming. There are virtual reality travel experiences, virtual reality documentaries, and much, much more.
It might be surprising, but it's true: VR is sometimes even used to replace anesthesia. You read that correctly. Patients concentrate on the VR content that is broadcast through their headset and then almost forget their pain thanks to a form of medical VR hypnosis. One of these alternatives to conventional anesthesia is Hypno VR .
A technology facing major diseases head on
Many health professionals are seeking to harness the potential of virtual reality to fight diseases. One pioneer in this field is Alberto Rizzo, a psychologist who heads the medical virtual reality department at the University of Southern California (USC). For more than 20 years, he's been working on the role that VR can play in autism, Alzheimer's, and many other diseases.
Professionals like Mr Rizzo come from other disciplines, ranging from psychology to motor and cognitive functioning. To name an example, let's first address autism, which affects 1 in every 68 children in the US. The disorder appears in early childhood and manifests itself in alterations in the ability to establish social interactions and communication, as well as behavioral abnormalities, in particular a reticence to change a tendency to repeat behaviors or discourse. VR has already provided visible results: researchers in Shanghai have already made some interesting discoveries : they've created a technology that is able to better care for children and keep them more focused while immersing them in an environment that encourages them to be more sociable.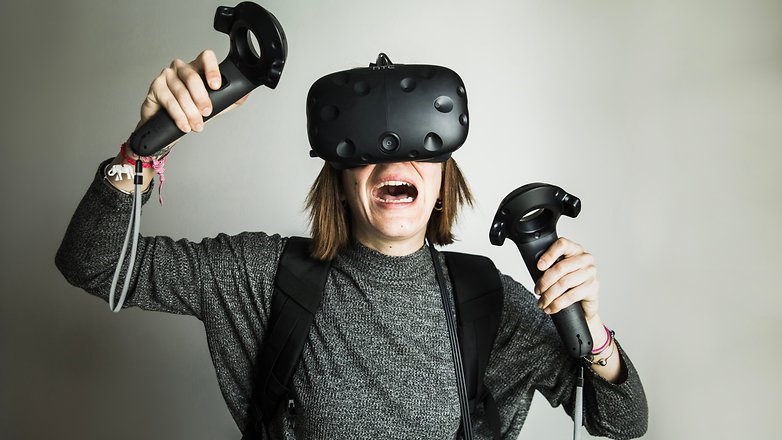 Virtual reality can drive healthy people crazy, but it can also help patients. / AndroidPIT

Alzheimer's, and more generally, dementia, are very widespread around the world, but there's also been some promising progress made in the fight against the disease. Although it's impossible to completely cure someone of Alzheimer's, it's become possible to screen people who might be later affected by the disease. VR technology can be used to detect risks even in very young people. And although VR therapy can't eliminate Alzheimer's disease, it has been proven that placing subjects in certain environments can lead to clear results. Ideally, recreating environments known to the patient will theoretically help stimulate their memory, but of course this is very complicated.
Virtual reality is being used in health care. It allows medical students to practice dangerous procedures and gain experience without actually operating on a human. It can also help surgeons determine the best point of entry for surgeries.
Parkinson's disease might be less well known than the first two diseases described above, but many people suffer from it (like Michael J. Fox). It's been studied closely, and just like with Alzheimer's, a diagnostic system with virtual reality is being developed to treat it. Cochrane , a non-profit organization focused on medical research, has tested the effectiveness of a VR treatment for Parkinson's disease and sees the potential. They found that the treatment had some advantages over traditional methods, but didn't consider it revolutionary.
We're still at the beginning of this technology's development. Over time, there is expected to be more and more potential. Let's hope that virtual reality and artificial intelligence will help eradicate these diseases.
Did you know that virtual reality plays a role in medicine?