Most people assume virtual reality appeals primarily to a younger demographic, but Bellingham's Zach Brown is finding growing interest with local seniors. As the owner of Heady Virtual Reality in downtown Bellingham, Brown has not only seen many older folks visit his virtual reality arcade, he's also brought virtual reality to them.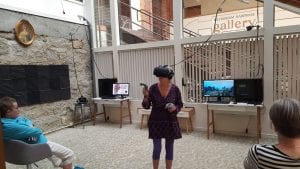 In December, Brown took his mobile virtual reality unit to Solstice Senior Living in Fairhaven. There, residents engaged in virtual reality, also known as "VR" – and they loved it. One woman,, spent time delivering presents in a Santa Claus simulation . Hopefully, this will become one of their weekly activities in the future.
Brown says seniors love trying VR because it allows them to experience technology they may have previously viewed as mere science fiction. In using VR, they can experience locations, activities or events they've previously lived through, or immerse themselves in surreal fantasy worlds. Whatever they choose, it all brings a smile to Brown's face.

"It's like a treat, coming in every day to work," he says. "You get to help people experience their minds being blown. It's fantastic to see elderly people blend their abilities with technology, take that leap of faith, and get into it."
Brown recalls one elderly gentleman who came into the lab and experienced an Apollo 11 re-enactment . It took him from JFK's historic moon speech to a Saturn V rocket launch, to walking on the moon with Neil Armstrong. When the experience was over, the man took off his VR headset and began to cry.
When Heady Virtual Reality opened last year, Brown had his octogenarian grandparents try VR for the first time. They don't own a computer or a smartphone and were amazed by the experience of playing " Dragonflight ," in which users ride a fireball-shooting dragon. They were still talking about it three and a half months later at Thanksgiving.
Major Brands Are Investing in VR. About 75 percent of the Forbes World's Most Valuable Brands have created some form of virtual reality or augmented reality experience for customers or employees, or are themselves developing these technologies. Given that this study was conducted in October 2015, the number is likely significantly higher.
Many seniors prefer less-complicated experiences, immersing in rides or scenes like the Apollo 11 simulation . Another woman, in her 70s, had a birthday party at Heady with two friends, who all had a blast riding a roller coaster simulator .
Others enjoy games with more interaction and storylines, such as " theBlu ," a deep sea adventure allowing users to glimpse and interact with surrounding aquatic life. Occasionally, older people gravitate towards what younger folks enjoy, like killing zombies in " Arizona Sunshine ."
Other popular titles include " Google Earth ," which seniors can use to revisit their birthplace or reminisce on past vacation spots, or for mobility-impaired seniors to visit a place they no longer can in real life. Brown says seniors have also enjoyed a hang-gliding experience and art simulations, such as the painting program " Tilt Brush ."
Virtual reality lets seniors stretch their minds – and their bodies, as well. A golf program allows users to take real swings with virtual clubs. With around 125 titles , Heady has options to suit most any physical limitations someone might have.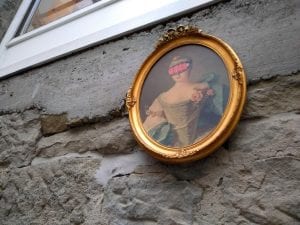 From a mental perspective, VR gives seniors the chance to do a fun activity using movement, coordination, balance and problem solving – far less passive than watching TV. A virtual reality session also allows for bonding between generations. Brown has seen an adult son and his elderly father blow away zombies, and watched seniors and their grandchildren play mini-golf . And in case you needed more incentive to visit the VR arcade, all students and seniors (62 and older) are 15 percent off on Sundays.
Currently, Heady Virtual Reality has four in-house VR units, one of which has a new and advanced Nvidia graphics card. A fifth mobile unit – the one that made its way to Solstice last year – can be brought to almost any location or business. Brown says he hopes for more visits to senior facilities this year, and sees VR as a perfect weekly activity for seniors.
"To allow someone to open their eyes a little bit and experience something new, it's definitely a special moment," Brown says of witnessing his customers try VR. "It's a joy to see people of all ages enjoy it."
U.S. military makes use of VR to train soldiers. The simulated Virtual world provide opportunities for teams to work together to prepare them for the chaos of combat.
For more information, including hours, pricing and memberships, visit the Heady Virtual Reality website .
Sponsored